Metaverse is a digital virtual world as the meaning is interesting to explanation.
It could be a game format. If you've played "The Sims". If you've seen the movie Ready Player One, it's not difficult to imagine. In the Blockchain world, users can own land form NFTs, creating a real-world connected business, transaction with Cryptocurrency.
The future may combine both. Put on VR glasses, go into Metaverse, buy houses, get dressed, shop with cryptocurrency, chat with stranger friends. Maybe better than the real world because you can 'Create a new self' on the Metaverse, unleash yourself as much as possible.
This is the Next-Generation of Internet and Social Network. The big company is preparing to play. Facebook invests more than 50 million USD and expands platform development team around the world after investing in Oculus VR in 2014. Apple invests heavily in AR hardware – Application support ecosystem. Comprehensive, ever since
I believe that businesses around the world are keeping an eye on Metaverse. At least it's good to open a branch, sell stuff, and find customers in it. 🙂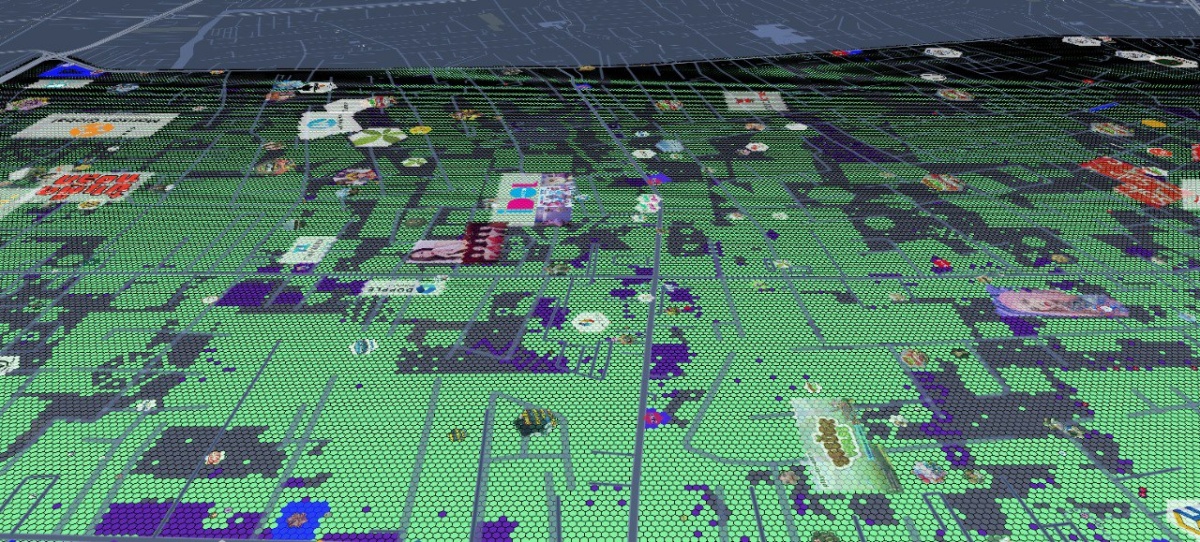 What about an opportunity on Metaverse?
The Metaverse is like new wave of business. More opportunities as everyone can 'start' what they want to do. It could open a virtual company, shop, NFT market, digital land broker, organize a concert, virtual expo, or etc. There is a complete ecosystem inside. Buy, sell, trade as well. Cryptocurrency or end in the real world (according to agreement).
In terms of Social Network, it is open for everyone to talk and get to know each other in the Metaverse world, such as a company where "Work from Home" may organize a Virtual Office to sit at work and have meetings like playing games. Change the atmosphere from Zoom, Google Meet, etc. that everyone must be bored. Developed to internal transactions Payroll through smart contracts, business deals within Metaverse.
Metaverse Thailand
Welcome to Thailand's first Metaverse platform. Based on virtual location (Map Layer 2) during Beta, the area we already start 'Thonglor – Ekkamai – Sukhumvit 71′ , Bangkok THAILAND.
You can buy land. (Land) in the form of NFTs, where owners can earn a living on the area + platform independently. Following the term condition of legal. – Ethics. And also including trading and changing hands.
Metaverse Thailand is a decentralized community platform that shares fundamental functionalities like other Metaverse platforms. It is powered by blockchain, encompassing Non-fungible-token. In this 3D virtual environment, users are able to visit, buy or sell lands and spaces, to interact and to play games with friends. However, instead of focusing on the pleasure aspect, Metaverse Thailand distinguishes itself from the others by offering business services within the platform and bridging between virtual office and virtual gaming.
In the future, Metaverse Thailand will be able to place 3D Model, 2D Logo as needed (3D is under development) to show ownership, promote business, brand and be practical like 3D Model, when clicked, can be Virtual Mall, Virtual Office. Maybe you don't have to go to the mall as you can shop easily from home in the virtual shopping mall.
Like watching a concert or trade show. You can wear VR glasses and walk in the live atmosphere. Even if you are out of the country. You could travel abroad from the virtualization. Just have internet. You can visit anytime.
META Token Supply
Soft Cap: 100 Million tokens
The Initial Distribution META is up to 100 Million tokens. This number includes all of the categories of token recipients in the distribution schedule. The total 100 million tokens are organized as follows;
Dev Share = 0%
Stake Reward = 70% of the supply is set aside for yield farming & rewards Emission Rate: Token/Block
2 Years – (3.3 META Tokens /Block around 28,800 META per day)
Treasury wallet = 30% of each minted token will be automatically sent to the Treasury wallet to be used on further development and marketing.
META Token is a Governance Token representing rights in the world of Metaverse Thailand with a built-in value.
The token can be trade, There are 3 types of use cases as follows:

– Vote (DAO): If you want the team to improve, add, edit various functions in Metaverse Thailand, you must submit a Proposal and vote with META coins as well as important positions. (Governor, Mayor, etc.) Coordinate between the User and the Development team. Vote with META as well.
– Generate Coins (Mint): MUSD system will use some META Tokens to generate (Mint) and be part of the value preservation mechanism.
– Trading: META can exchange, trade via DEX, not different from other Tokens, but the value depends mainly on the market mechanism.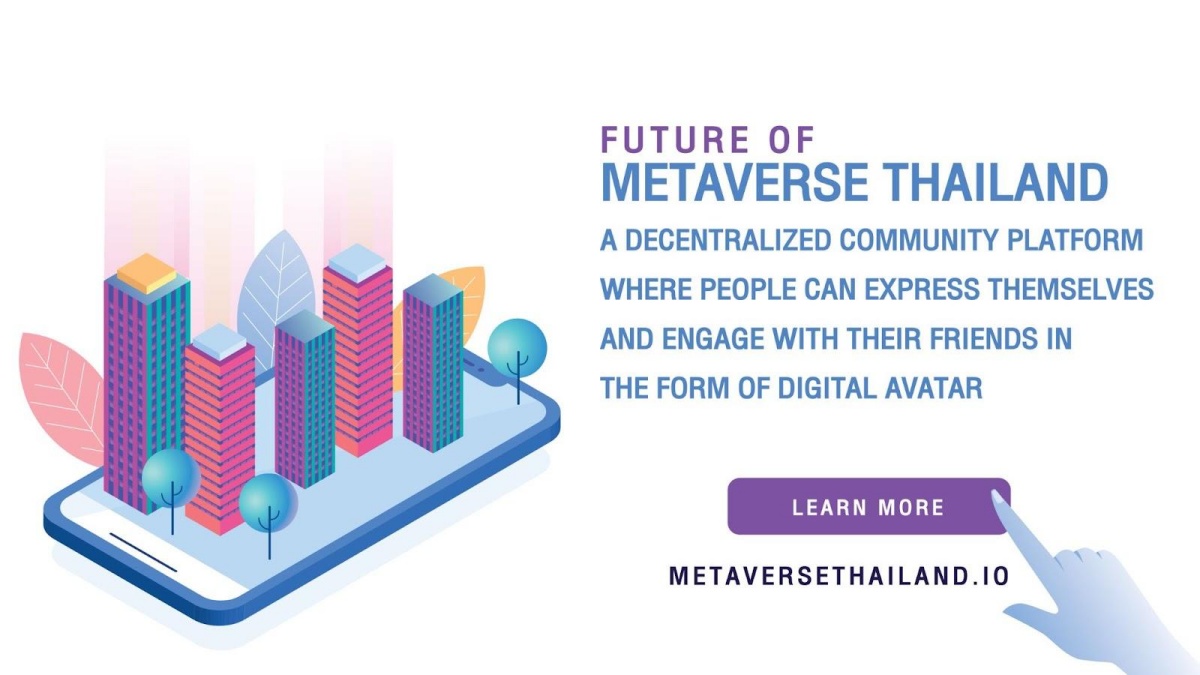 What's more
– Metaverse Thailand conducts main transactions on BSC Chain and minor transactions on Metachain as well as NFT Game to save fees. can develop features New functions are easier, faster
– Placing Logo 2D or 3D Model can be done manually through automation. or special design (for 99 Block and above). The team reserves the right to delete from the system.
-Embedded Youtube: You can put clips on Youtube on the land as well. Suitable for KOL who want to promote both Brand + Content on Metaverse Thailand. Following the term & condition of legal content.
– META Token and MUSD are not investment coins. Should study the details of the purchase, exchange, the team will not be responsible for any If the price fluctuation causing the loss of the holder of that coin.
– Land on Metaverse Thailand is simulated from real location only. Does not affect ownership, title deeds, laws in the real world
Can a game change reality?
Game is divided 3 levels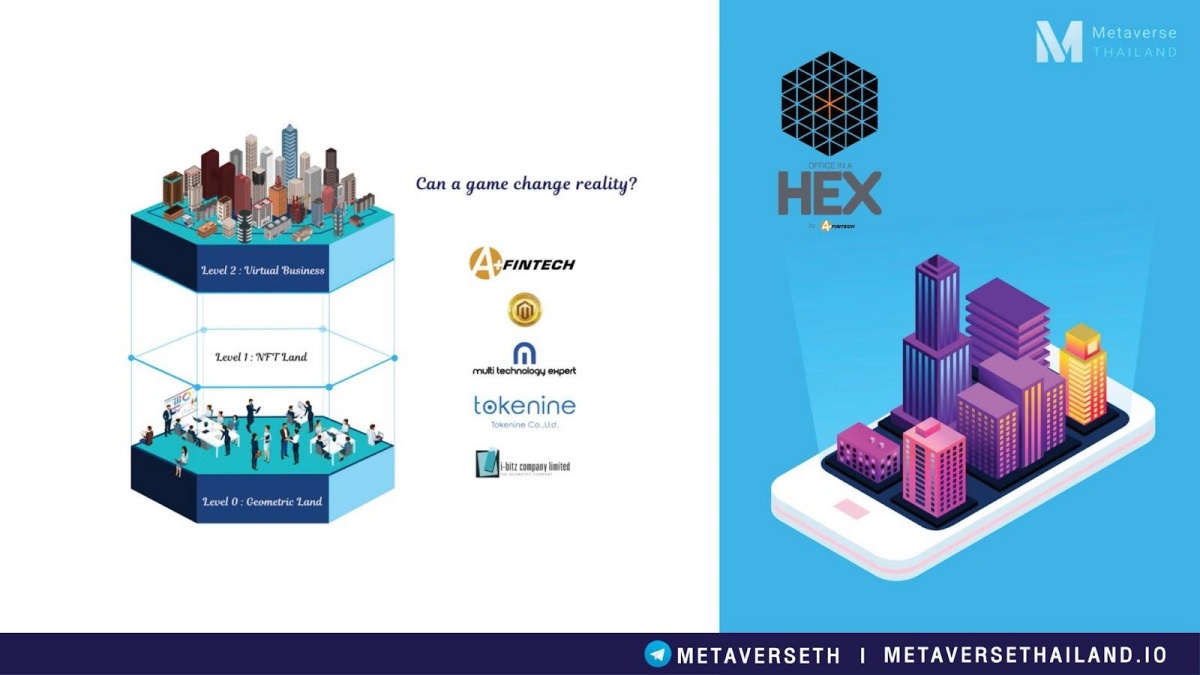 Level 0 : Geometric Land
In Metaverse Thailand, the map is made up of digital representation of Thailand landscapes. The areas are arranged in geometric manner of 4×4 hexagon per block. Phase 1 of the project mainly targets Sukhumvit area in Bangkok and will continue to expand to other areas in the near future. User can own, sell, or buy such representation in the digital platform.
Level 1 : NFT land
Unlike fungible assets such as money that is interchangeable, Non-fungible tokens (NFTs), Becoming popular buzzword on the internet, is a unique and irreplaceable digital assets. They could vary, for example from artworks, music, videos, to digital lands. NFT lands embrace blockchain technology enabling them to be tokenized and creating certificate of ownership. It is designed to prevent forgery and duplication problems of digital files on the internet.
Interestingly, unlike physical land ownership, virtual land ownership is inherently decentralized and secured which mean that safe transaction paradigm can be obtained via blockchain without a need for intermediaries between buyers and sellers.
Level 2 : Virtual Business
Unlike other Metaverse platforms, Metaverse Thailand does not only allow users to buy certain spaces and build their world in it but aims to transcend the realm of business world by providing tangible business services and virtual office features for the community.
Indeed, Metaverse Thailand is a decentralized community platform where people can express themselves and engage with their friends in the form of digital avatar. They can buy, sell, name, or even develop the lands they own. However, Metaverse Thailand goes beyond just pure pleasure platform as it offers business incentive packages in in owning a virtual office as well as the address in Singapore.
The virtual office will have a business address in Singapore to ensure the owners can reach their business anywhere in the world. They can establish and maintain a professional network with a specific business address and allow themselves the freedom and dynamic in a working environment, accessing the global communities without their presence in Singapore.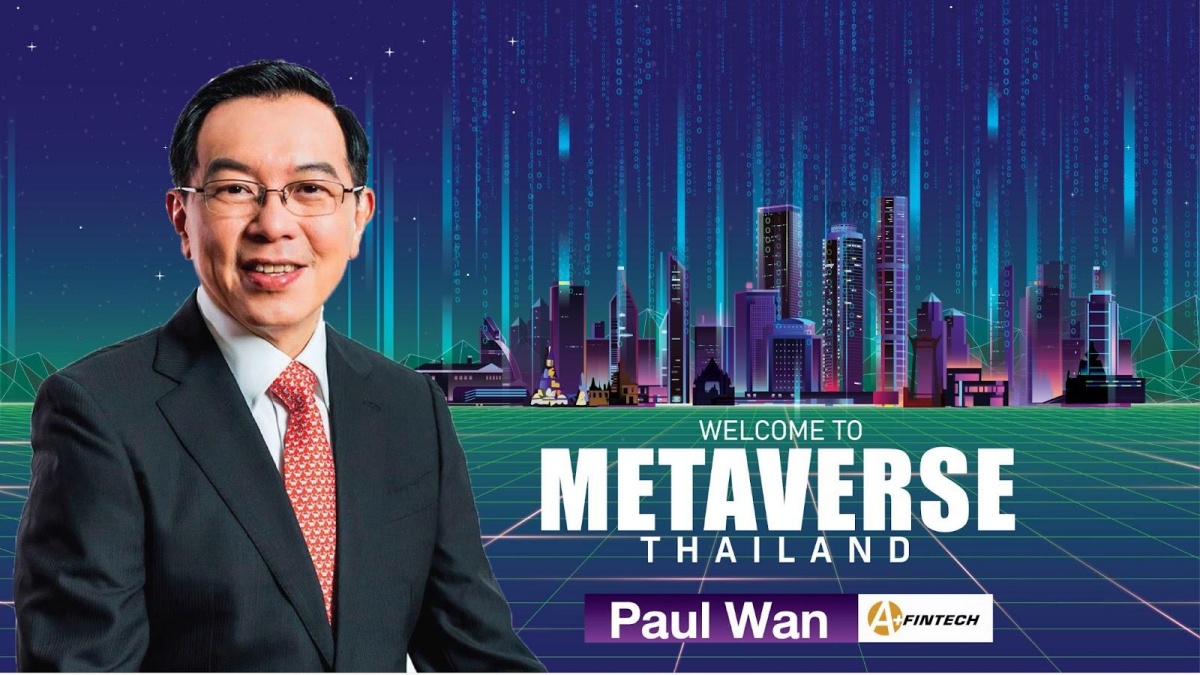 Headquartered in Singapore the global hub of Business, A Plus Fintech Pte Ltd., is a financial technology company that primarily focuses on the adoption and investment in Blockchain and Cryptocurrency. A Plus Fintech has recently acquired its spotlight by successfully investing and collaborating with MVP Coin project; Thailand's first travel service token. The main driving force of such accomplishment is Mr. Paul Wan.
Paul Wan is a Singaporean investor and corporate finance advisor who has successfully led many large companies to raise capital on the stock exchanges of Singapore, USA, UK, South Korea Taiwan and has handled many merger and acquisition deals from Singapore, China, Thailand, Vietnam, India, Saudi Arabia and Europe. He also has a wealth of experience in audit and is also a practicing member of the Institute of Singapore Chartered Accountants (ISCA) and the Institute of Chartered Accountants in England and Wales (ICAEW). Moreover, he is one of the founding member of the Morison Group Accountants and Business Advisors and recently became global Chairman in September 2020.
Morison Global is an organization that brings together a global network of leading companies providing accounting, auditing, tax management, corporate finance, IT and legal experts. Mr. Paul Wan who has strong connections with companies around the world and is behind many successful business deals, until being trusted by customers in all continents around the world. He has travelled to more than 50 countries and visited 80 over cities for businesses.
Asides from Blockchain technology that enables easy and efficient business transaction, A Plus Fintech has continued to embrace and harmonize new technologies to its existing ecosystem. Metaverse Thailand is its latest mission, which aims to transform conventional ways of doing business in the reality into unprecedented virtual experiences.